As a business owner, you're undoubtedly aware of the importance of a visible online presence.
When it comes to improving your local SEO, Google My Business (GMB) is an invaluable tool at your disposal.
A well configured and optimised listing can ensure you appear in Google Search Results and Google Maps for relevant searches with a local intent – for example "Digital Marketing Agency in Leatherhead".
In this comprehensive guide we walk through everything you need to know to set up your GMB profile for success:
Considerations to note before creating your profile
Configuring your GMB account
Optimising your listing
Harnessing the power of reviews
Whether you're claiming your business listing for the first time or looking to optimise your existing profile, read on to discover how to make the most of GMB.
What is Google My Business?
Google My Business (GMB) is a free and straightforward tool that plays a crucial role in managing your business's listing in the Google Search Results and Google Maps.
Physical Address or Service Area Business (SAB)?
Before creating your GMB profile, it's crucial to decide whether to set up your profile as a Service Area Business (SAB), display your business address, or opt for a hybrid of both.
If your customers can visit your physical location such as offices or shopfront, displaying your address usually offers the most visibility.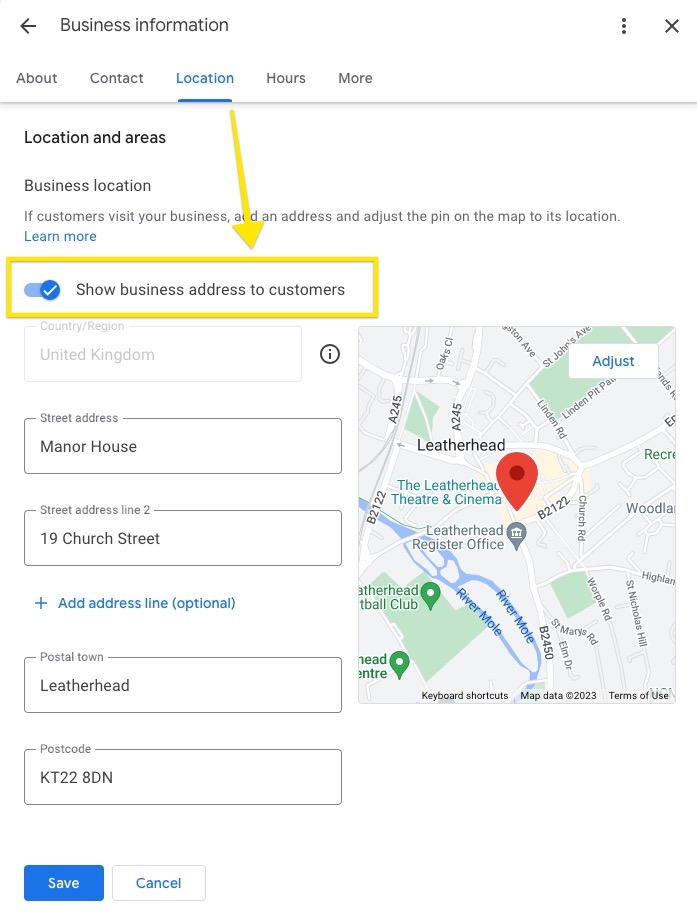 Verification through a postcard sent by Google is normally required in this case and we typically recommend this option on the basis you can demonstrate appropriate company signage at your premises.
Important Note: If you do have company signage around your premises we highly recommend adding pictures to your GMB account, discussed below, otherwise you might find your listing suspended (we say this talking from experience with our own).
For those running a Service Area Business (SAB), where you visit customers, but they can't visit you, choosing the SAB option and your service areas is the right move.
Google have additional information covering your options if you're still not sure on their support pages.
Setting Up Your Google My Business Profile: A Checklist
Now, let's delve into setting up your GMB profile. Here's a checklist to guide you:
Business Name: Use your main business trading name or website name. Avoid keyword stuffing to dodge potential flags by Google.
Address: As discussed above, if you have a physical location customers can visit then it's recommended to display it. Where possible try to keep a consistent "Name, Address, Phone number" (NAP) consistency across all online platforms where your address is listed.
Photos: Add attractive photos of your business, including your logo, cover photo, and business images. If you have a physical location, ensure you incorporate photos showing your logo or signage, and you can also use this to showcase client work.
Description: An effective description can significantly impact your business's online visibility. Add as much information as relevant and adopt similar practices to optimising your meta description – be sure to use keywords that people are likely to use when searching for businesses like yours.
Categories: Choose a primary category for your business and, where applicable, secondary ones. Tools like GMB Spy (a Chrome Extension) can make it easier to surface your competitors' categories, helping you make informed decisions.
Services: For new businesses, it's worth detailing your essential services. Google will automatically update this section over time —often with irrelevant options—making it less crucial for ongoing maintenance.
Products: Even for service-based businesses, listing services as products can enhance their prominence in search results.
Ongoing Optimisation of Your GMB Profile
Maintaining an updated and engaging GMB profile is just as crucial as setting it up. On top of period reviews to ensure your business information is up to date, here's some additional areas you can use to keep your profile fresh:
Posts: Regular posts can be useful to showcase any promotional material, but they don't stay actively visible for long. In our experience to date, they get little engagement – so we don't advocate committing any specific time or resource to creating fresh content. For this reason we advocate posting the same content you would across your social channels, ideally from one central social sharing tool to speed up workflow.
Photos: Periodically add any new photos that showcase your business or your work:

Recent projects & case studies
Staff and office photos
Events

Products: Always update this section when there are changes to your services or product pages.
Collecting and Managing Reviews for your GMB Profile:
After your initial set-up reviews are the single most critical element you can focus on to improve your local visibility. Here's how best to tackle them:
Review Requirement: Encourage your customers to leave reviews. They may not all give you 5 stars, but a perfect score would look dubious anyway. Ideally customers will leave some comments too explaining their positive experience rather than simply rating you. Common terms your customers used will be surfaced at the top of your reviews – so encourage them to provide this information.
Review Collection: Your GMB profile can generate a review link for you to share – but customers will need to have a Google Profile (not specifically a Gmail address) in order to leave a review. If you have a large number of customers you want to collect reviews from, you may consider using another piece of software to help capture reviews – including first-party reviews for those customers without Google profiles (or those that don't want to share their thoughts publicly).
Review Response: When starting out we recommend responding to all your reviews. You can thank customers that share positive reviews and also handle negative reviews by apologising, be authentic and looking to take the conversation offline to resolve it.
Review Promotion: It's possible to integrate positive reviews into your marketing collateral – including your website. There are a number of 3rd party widgets we've deployed for our customers to showcase their customers positive sentiment and help improve their credibility and conversion rates.
Setting up and optimising your Google My Business profile is a continuous process that demands attention and dedication. However, with this comprehensive guide, you're now equipped with the knowledge to utilise GMB effectively.
However, if you need further assistance, or would rather concentrate on what you do best and leave the digital marketing to the experts, we're here to help. At Elliptycs, we're well-versed in the ins and outs of Google My Business and local SEO – so get in touch today.