A strong content brief ensures that a writer has clarity and direction on the theme of the content and what it should include, as well as guidance on the tone of voice and brand personality that should be conveyed throughout the content.
The type of brief you create and the detail it needs to contain will depend on the content type you require, e.g. written or video. This article will explore the benefits of creating a successful content marketing brief for a blog article.
Taking the time to create a thorough and descriptive content brief can help to:
Ensure all essential information is included in the article and all relevant themes are covered.
Save time and money by reducing the revisions required once the article has been written.
Provide a central document for a team to reference for all content requirements for that theme.
What is a Content Brief?
A content brief is a detailed and structured document commonly used by marketing and creative teams to provide information and guidance to content writers or content creators to help them produce content that meets their needs and requirements.
An effective content brief should add structure and transparency to the content creation process, allowing writers and creators to produce better quality content suited to your needs and requirements and minimise editing time.
Step-by-Step Guide to Writing an Effective Content Brief
Every content brief will vary slightly based on the requirements of the piece of content, for example, whether any visual graphics will be included in the article vs text only. However, several fundamental steps will always be relevant and beneficial for creating a successful and effective content brief.
Identify Key Topics and Potential Article Title
The first step is to research and identify the title and key topics for the content. If you're creating the brief, you may have a good idea of what the reader will be searching for as you've identified the need to create the content; however, the writer won't have the background or know the objective of the content.
We recommend you start by looking at a search engine in incognito/private browsing mode and begin by opening tabs for different search queries relating to your topic. Look at the pages ranking on the first page of the search results, and compare and identify the themes, topics and heading structure they are using to determine the best approach to use for your content.
Consider different words that can mean something similar – what you think people will search for may not always be the term or phrase they use.
This stage of the process came in very useful recently with one of our clients when researching potential angles for an article we were creating for them for the American market. The theme of the article we initially conceptualised was 'Top Vineyards in Tuscany'; however, following our process outlined above, we noticed that when searching for 'vineyards', most of the results used the word 'wineries'. Looking at how the search engines were rewarding these websites highlighted the better topic we should address in our title and throughout the article.

As an additional step, you can also use free tools such as Google Search Trends or paid versions such as Ahrefs or Semrush to look at search volumes and trends for your identified terms and compare their potential value.
Outline the Structure and Format
Your content brief should begin with a clear and concise introduction explaining the content theme, client and industry (if applicable), tone of voice (informative, playful etc.) and the content objective.
For example, a good structure and format for this article would be 'This is a new blog article on the theme of 'How to Write a Thorough Content Brief to Nail Your Next Blog Post' for a Digital Marketing Agency. This content will be informative and add value to the reader, helping them understand the steps to take to create a thorough and descriptive content brief. The content aims to engage the reader and highlights the agency's content marketing service should the reader be interested in outsourcing this process.'
By creating a strong structure, you will be able to quickly summarise the purpose of the content and help the writer understand who they are writing the content for and the purpose of the content so they can research any current examples and styles of writing.
Add Topics and Subtopics to Cover
Include a bullet-pointed list of all the themes you would like the writer to cover within the piece of content, including sub-topics where necessary. Include a section for an introduction and conclusion if relevant. A well-defined list of topics will help the writer ensure they write about the topics that are important to cover within the article to save time when it comes to revisions and editing.
Specify Questions to be Answered
Go back to your searches from the keyword research stage and take note of the questions in the 'people also ask' section.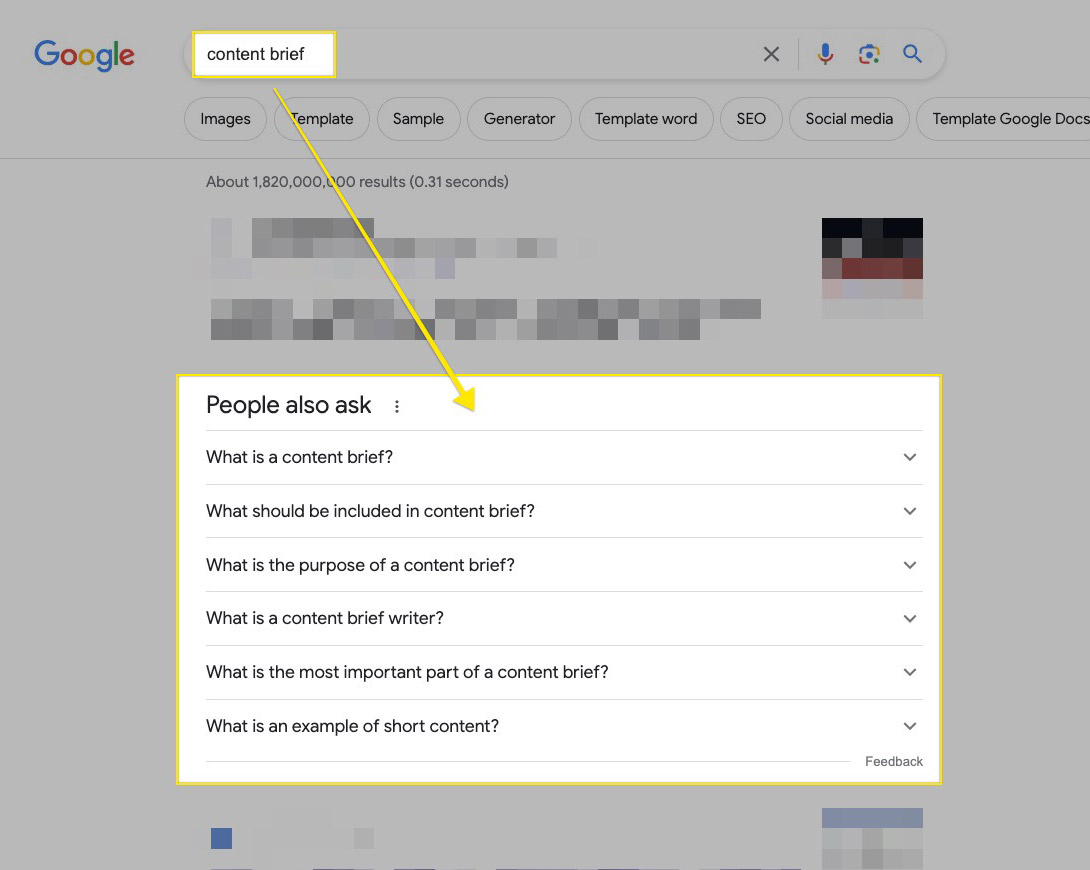 This feature showcases questions people are typing into their search and will give you a good idea of any areas you may have missed in the topics section or areas you can cover with slightly less prominence than your main topics. These questions can also be used to create a further FAQ or information section to aid the piece's discoverability.
Define Your Target Audience
Who is the writer trying to engage in their writing? Is it a customer, business owner etc? Helping to define the target audience will help the writer to understand who they need to tailor the content towards in their writing.
Outline Internal (and External, if relevant) Link Requirements
Every piece of content you create presents an opportunity to link to other existing articles or pages on your website that will further help the reader.
Listing out any internal links will ensure the writer can coherently include these to encourage the reader to remain on your site for longer and engage with a broader variety of content.
External links are also an excellent opportunity to reference a credible industry source to show authority and give up-to-date facts and important information. We recommend you primarily provide external links to official sources, and certainly not competitors.
List Out Competitor's Articles to Reference and Bridge Gaps
Research competitor articles (via incognito search mentioned in step one) that you think are useful and provide links to these sources to help the writer better understand the topic and what should be included. The writer should not plagiarise the content but look for a good example of the structure and identify any gaps you could expand upon in your content piece.
Define Recommended Word Count
A recommended word count gives the writer a guideline to follow to ensure the content is not too short or too long and contains the right amount of information for that topic or theme. Look at some similar content and distinguish an ideal word count based on the average word count for similar articles that are surfaced highly in search results.
A detailed content brief is a valuable tool to ensure every piece of content meets all your requirements, saving time, money, and frustrations that can arise when you're not provided with what you expect.
Although creating a good content brief template may seem overwhelming initially, once you have a good template, the brief-creating process becomes easier and faster.
At Elliptycs, we provide a content marketing service that takes care of this process, providing high-quality content that encourages the intended audience to engage with your website. Contact us to learn more about how we can help you improve your online presence.